In their hospitality giants issue, Interior Design magazine noted that the hospitality industry is the only segment of interior design projected to grow significantly in 2020, which should attract the notice of business-savvy designers. Inc magazine described this new "Experience Economy" as a "tectonic shift" in spending and the hospitality industry is perfectly poised to deliver on unforgettable experiences.
In this post, we explore the recent hotel design work of three Studio Designer users who have successfully expanded into the hospitality territory by bringing fresh creative perspectives to their hotel projects. Designers Martin Brudnizki, Christine Gachot, and Kelly Wearstler have designed hotels that beautifully showcase their unique style perspectives and are also Instagram-worthy gathering places that honor the culture and history of their city locations.
---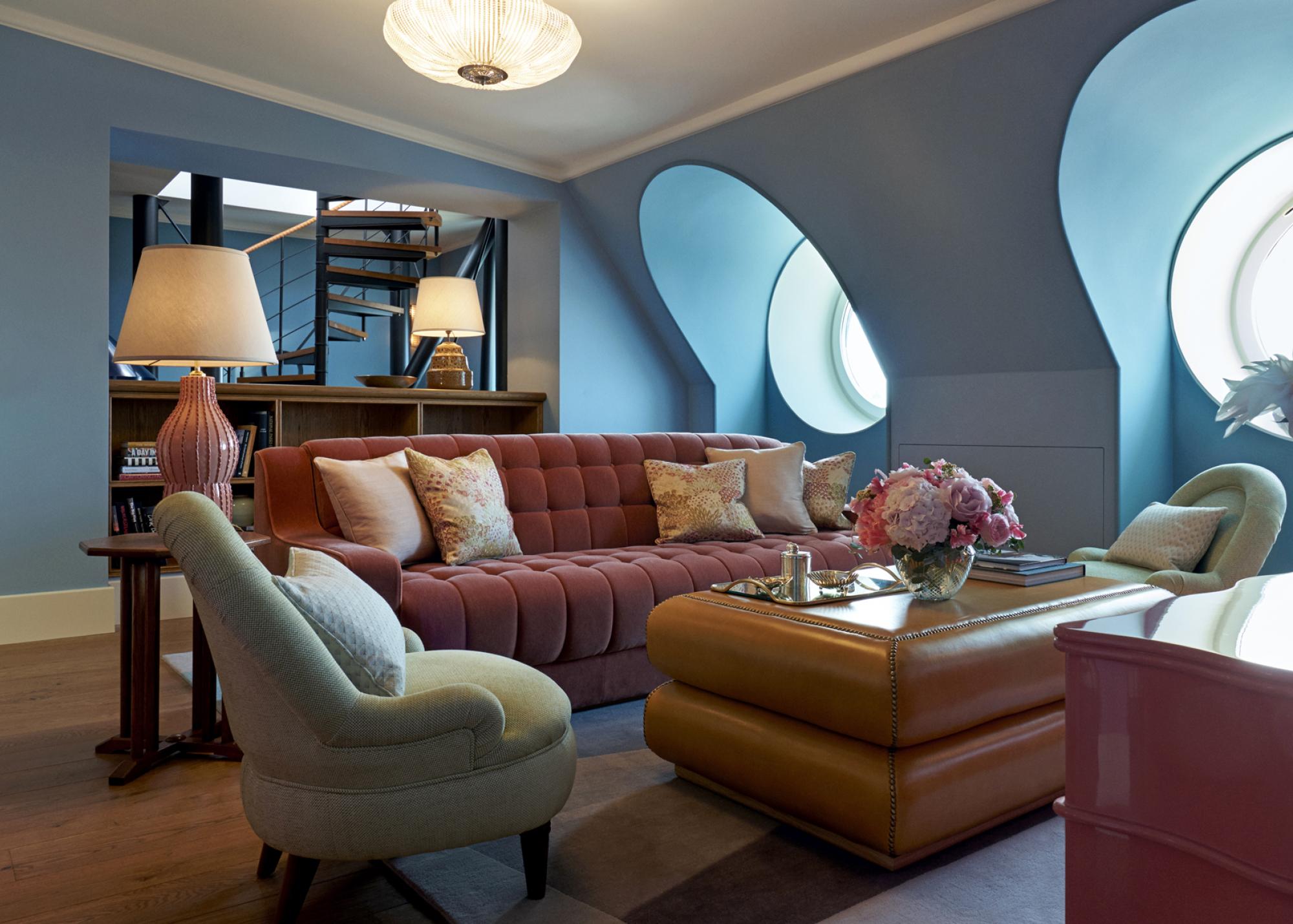 Rooftop Suite Living Room | Photography: Andy Liffner & Magnus Mårding
Designer:  MARTIN BRUDNIZKI
Home Base: New York and London
Select Hotel Projects: Grand Hôtel Stockholm (featured), Mr. C Coconut Grove Hotel in Miami, Four Seasons Astir Palace in Athens, University Arms in Cambridge
Martin Brudnizki Design Studio oversees a staff of more than 70 interior designers, architects, lighting designers, product designers, and art consultants who all focus on the individual and the "experience of an interior." They take the time to hand-craft interiors with a thoughtful deliberation of context and lifestyle. Last year, Martin returned to his roots in Sweden for his first project in his home country with his redesign of the Flag and Rooftop Suites at the Grand Hôtel Stockholm.
Flag Suite Living Room
These bright and lively suites—which can be reserved separately or together—breathe new life into the historic hotel with a playful color palette of springtime hues, brass details, tufted furniture, color blocked rugs, and sparkling chandeliers. Each suite has its own separate entrance, a marble-clad bathroom, lounge area, and bedroom. The designers had fun decorating the suites' original and unique porthole-style windows with their unusual shape as well as their priceless views of Sweden's Royal Palace.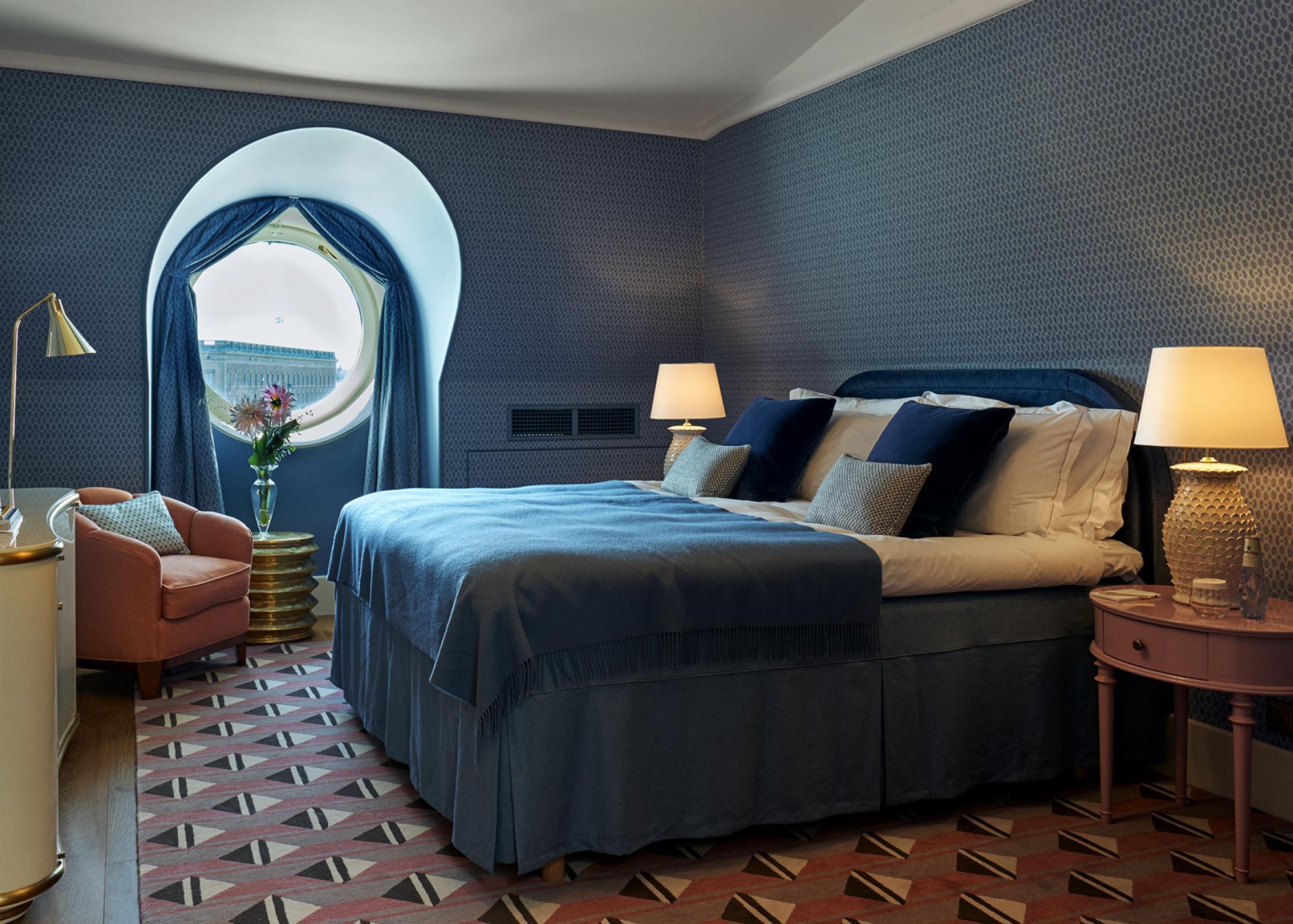 Suite Bedroom
The hotel describes these suites as a "luxurious home of timeless elegance" and Martin took great care to layer different materials, textures and styles to achieve a deluxe residential feel. His work paid off exquisitely in the suite bedroom design with its patterned wallpaper, geometric rug, textured lamp, and glossy furniture creating a stunning composition inspiring many a guest to consider duplicating the look for their own homes.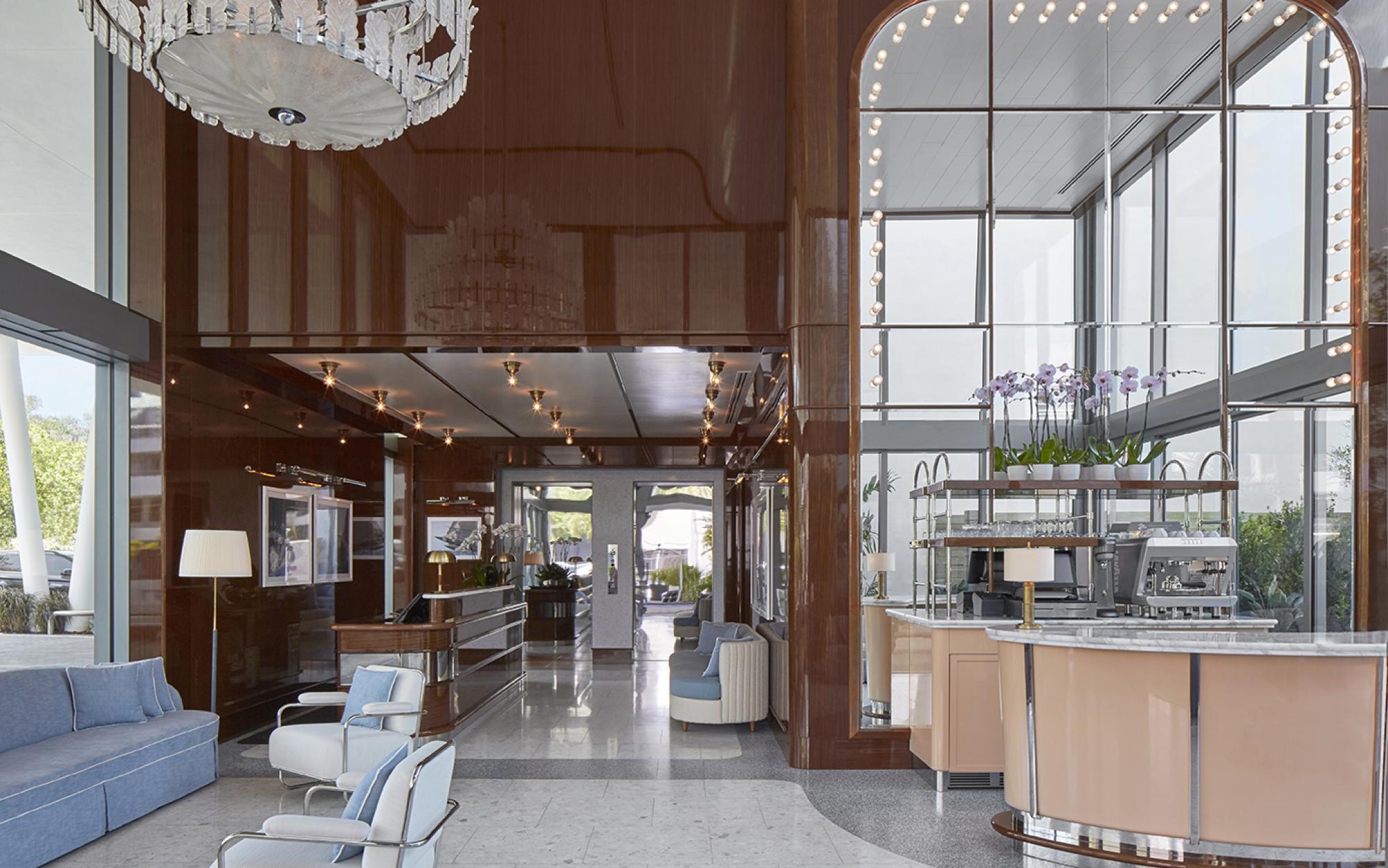 Mr. C Coconut Grove Lobby, Miami 
While this project just involved two suites of Stockholm's Grand Hotel, Martin and his design team also recently designed the streamlined and show-stopping interiors of Miami's Mr. C Coconut Grove Hotel, a glamorous place that resembles a mid-century Italian yacht inside and out. Fabulous details include high gloss timber paneling, Murano glass chandeliers, and a large-scale terrazzo floor in the reception lobby area. Martin Brudnizki's success in hotel design and his impressive versatility have made his studio in high demand among hospitality clients including the Four Seasons, Soho House Group, and the Royal Academy of Arts, and a fair number of private clubs.
---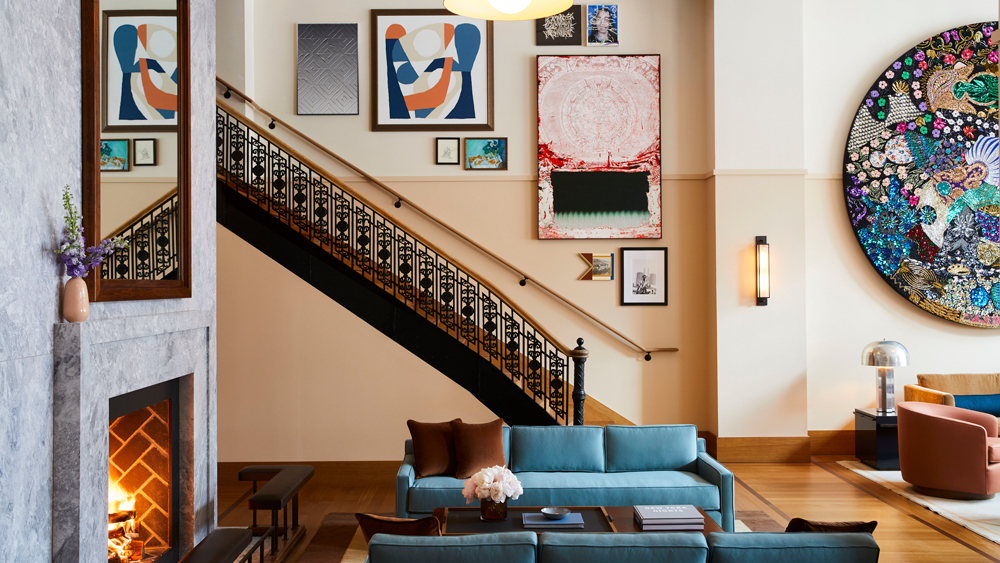 The Shinola Hotel Lobby in Detroit | Photography: Nicole Franzen
Designer:  CHRISTINE GACHOT
Home Base: New York
Select Hotel Projects: Shinola Hotel in Detroit (featured), Eaton Hotel in Washington, D.C., Pendry Hotel in NYC (opening in 2020),
Christine Gachot's experience working on The Standard Highline hotel during her career at André Balazs Properties was key for developing her recognizable style of elegant precision leading to her current career designing elegant homes and impressive hotels. Several years ago she founded Gachot Studios with her husband John that has since become a thriving, cross-disciplinary practice. She shared in an article from Elle Décor, "Cross-pollination with ideas, as we like to call it, can pass from commercial to residential projects and vice-versa — it helps maintain a fresh approach for the studio."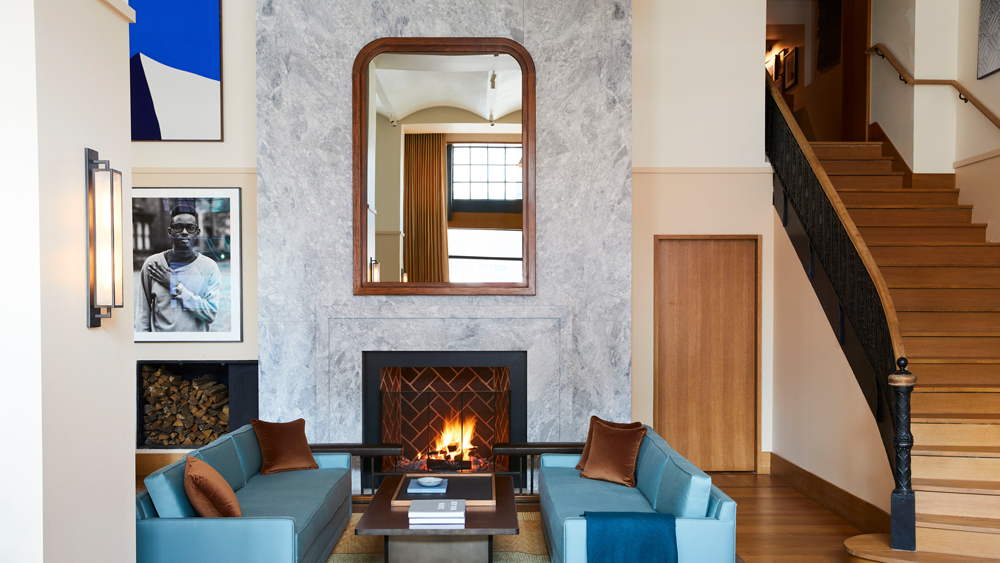 The Shinola Hotel Lobby
The Shinola Hotel is a standout hotel project for any city, but is especially meaningful for the city of Detroit which is undergoing a long-awaited renaissance. Christine and her team had the distinct privilege of honoring the city's historic architecture and the luxury craftsmanship of the Shinola brand by restoring a former department store building and sewing machine shop to create a fashionable and modern venue for the city.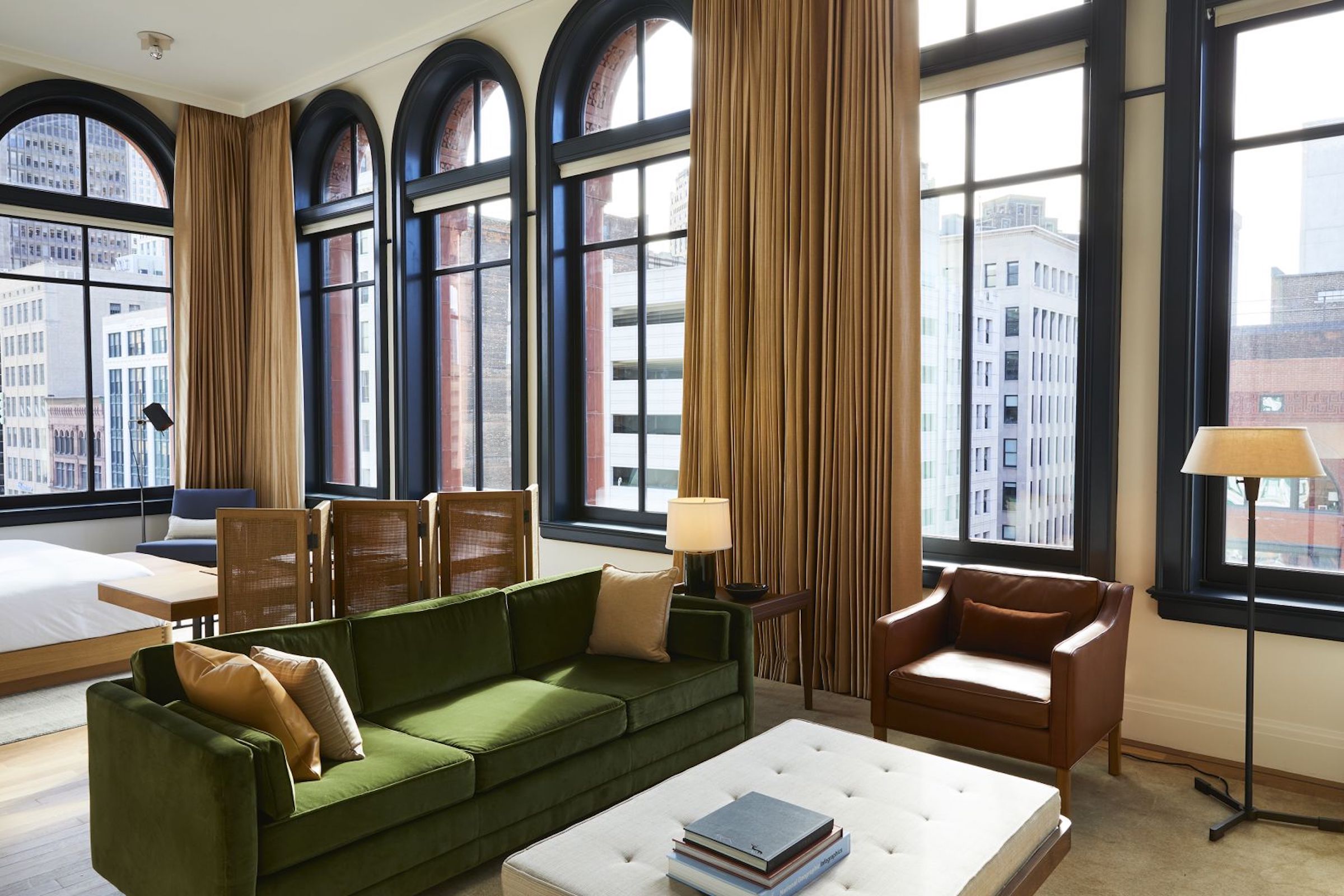 Shinola Hotel
The Gachot Studios team collaborated with Shinola creative director Daniel Caudill to create the hotel's overall aura of sleek sophistication inspired by the cozy London private clubs. They made the most of existing design elements like the giant arches of the building's historic windows. The streamlined shapes and soft curves of the furniture and decorations using materials as leather and jewel-tone mohair showcase the designer's elevated take on mid-century modern design.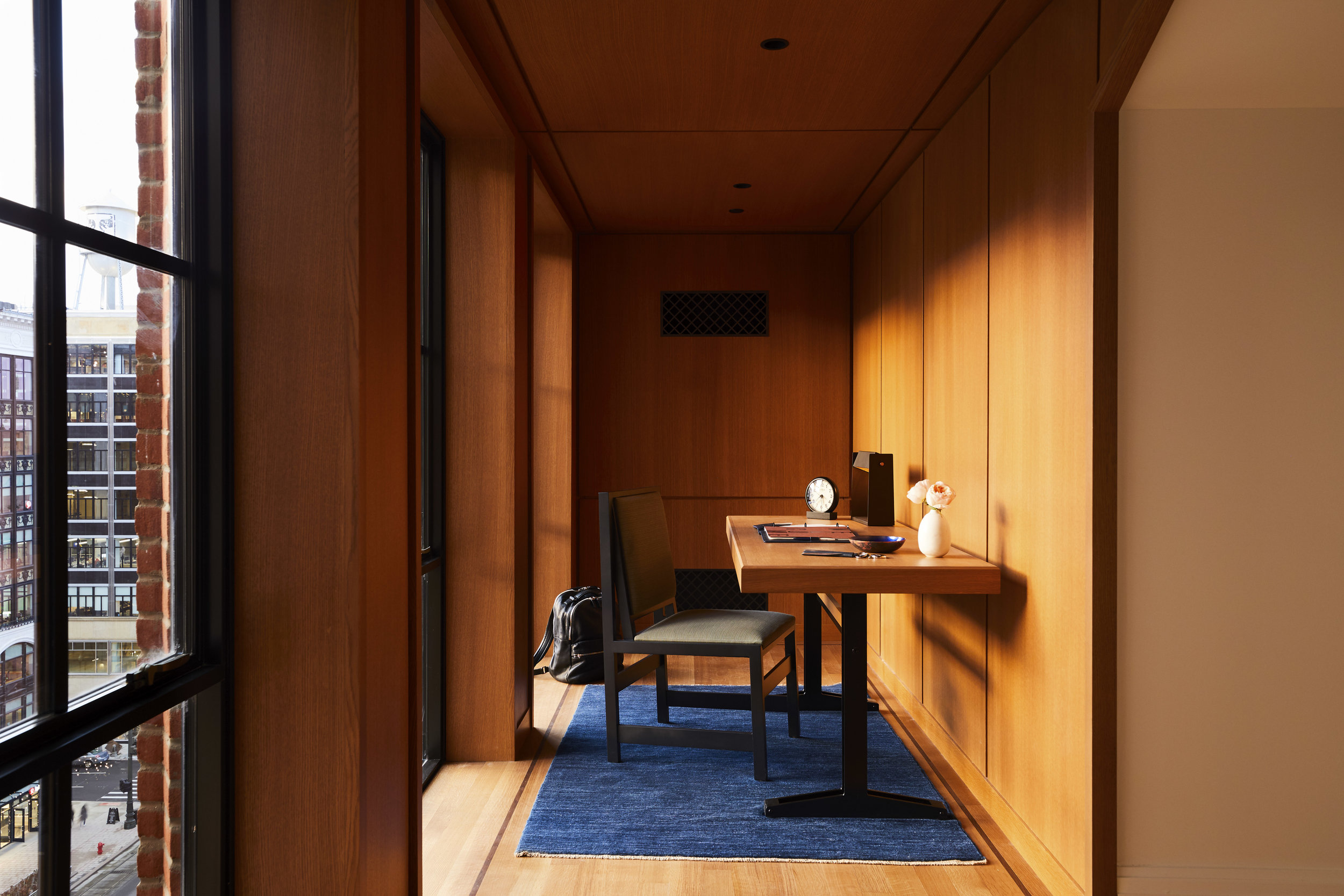 Shinola Hotel
Christine expressed to AD that the success of her hotel design comes from her initial desire from the beginning, "We wanted make sure it was friendly, engaging, and had something for everybody." Christine's residential mindset added comfort to the high style of the hotel's common areas achieving her goal of making it the "living room" for Detroit. Her singular spin on mid-century elegance was also deployed in the hip and socially conscious Eaton Hotel on K Street in Washington D.C. and she is currently working on a hotel in her hometown of New York City, a 164-room hotel for Pendry Hotel.
Eaton Hotel, Washington D.C.
---
Designer:  KELLY WEARSTLER
Home Base: Los Angeles
Select Hotel Projects: Proper Hotel Santa Monica (featured), Proper Hotel Downtown L.A., Proper Hotel San Francisco, Proper Hotel Austin (opening 2020)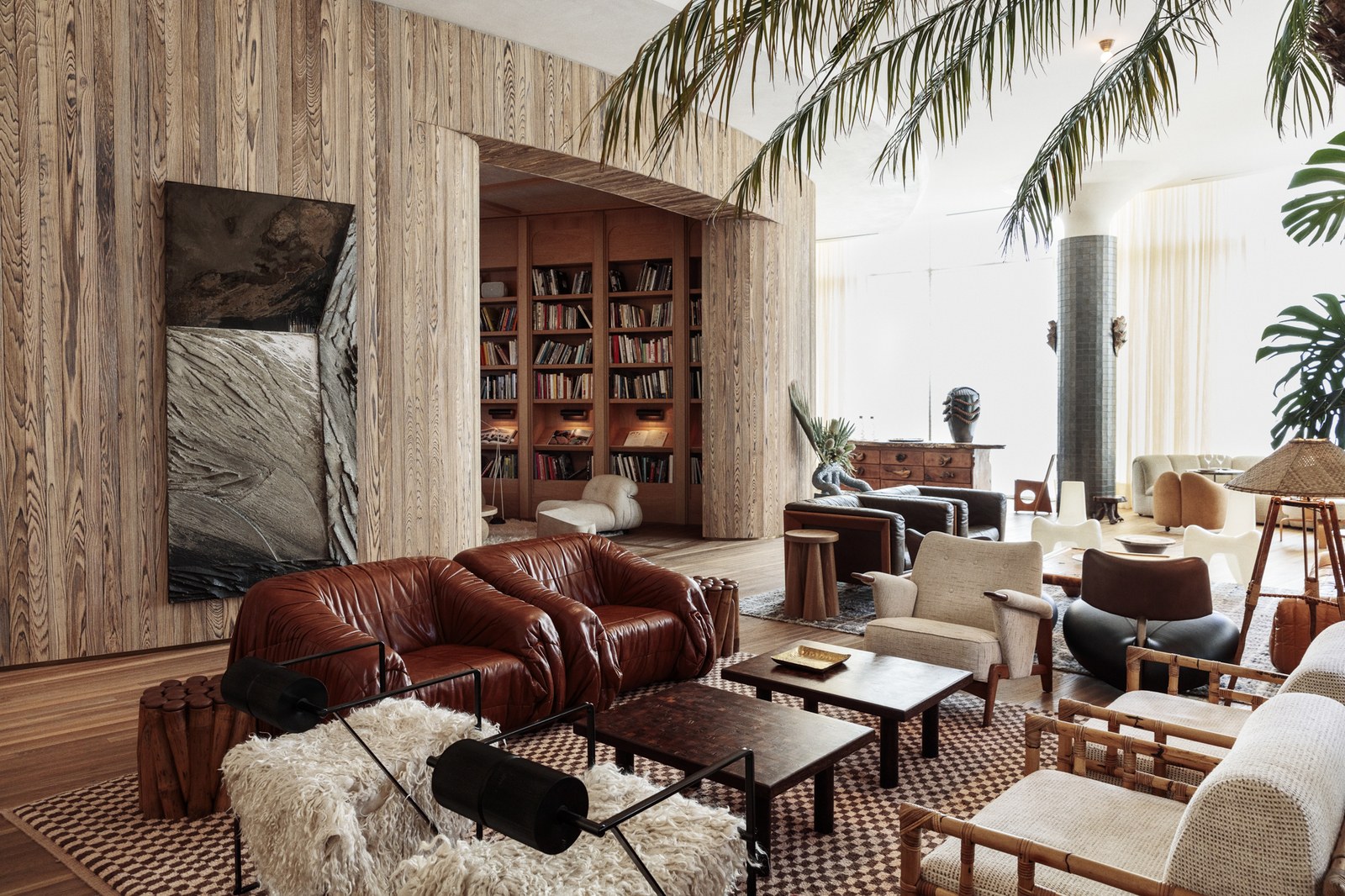 Proper Hotel in Santa Monica | Photography by The Ingalls
Kelly Wearstler continues to scale new heights in the design world with a creative drive and passionate energy that lands her on the AD100 and Elle Décor A-List year after year. She is an ardent student of fashion and design history who delights in playing with patterns in fabrics, stone, and furniture—making each of her projects unique but recognizably her own. Her directional brand of "California Cool" has garnered an international fan base and she is presently engaged in an electrifying partnership with the boutique hotel chain Proper Hotels.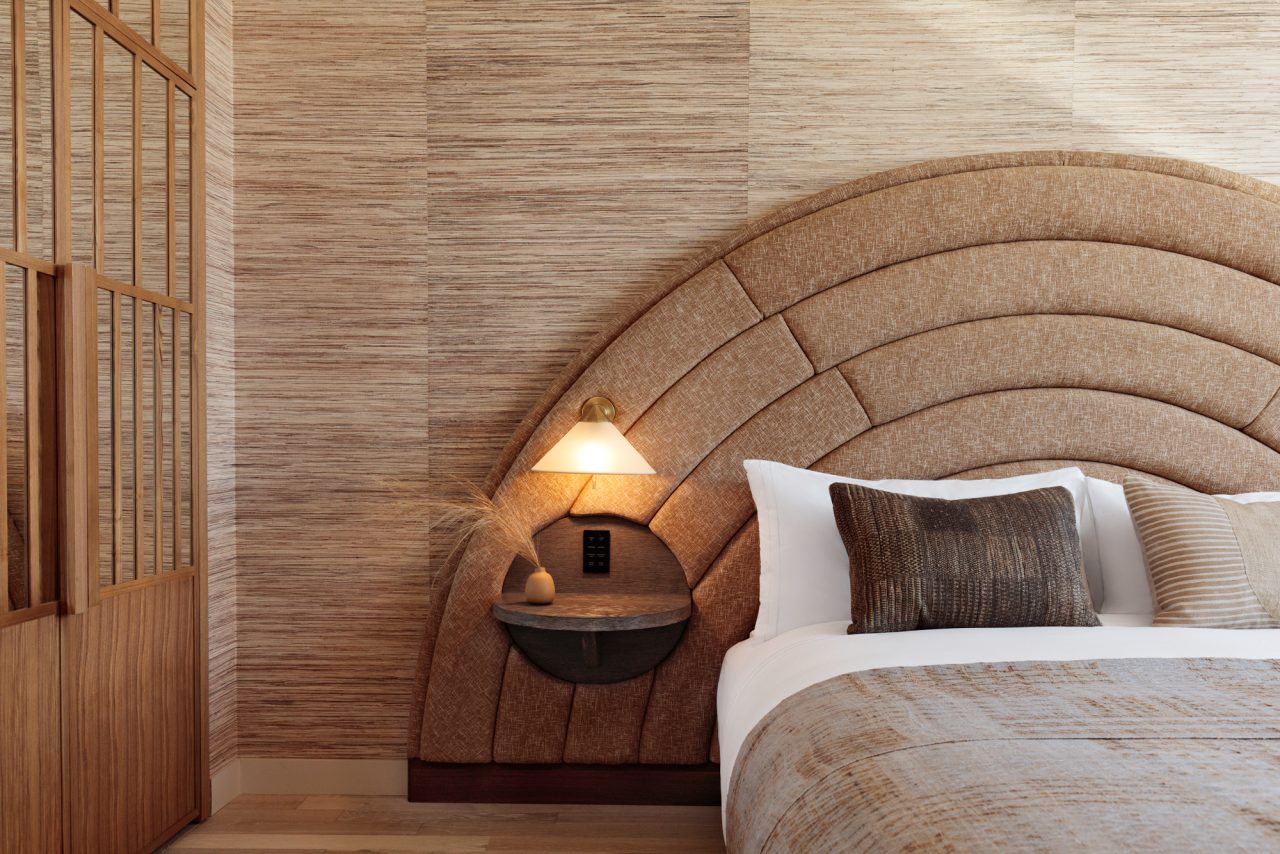 Proper Hotel in Santa Monica
Last year, she conducted a wildly successful revamp of San Francisco's Proper hotel taking cues from the city's culture and art scene that quickly made the place the hottest hotel in town. A few years ago, she shared with AD her plans for her Proper Hotel design series, "Design needs to be site-specific. We want people to feel the spirit and flavor of each town they stay in. . .Each Proper outpost is going to be tapped into the coolest aspects of the city."
Proper Hotel in Santa Monica
The Santa Monica location presented Kelly not only a chance to get inspired by her local area but also distill the essence of the popular beach town into a cohesive style story. She used the muted color palette of the sand, sea, and skies as her muses in the dreamy and serene aura of the hotel's rooms and common areas. Her tufted and arched headboards made of natural fabrics boast built-in side tables made out of stone. Kelly's design of this hotel leans into the chill, coastal ambience of its location that beautifully shows off her inventiveness and mastery of using fine luxury materials in a bold, creative manner. She told The Hollywood Reporter that her Santa Monica hotel design should feel "intimate and cozy like you are in somebody's living room in a house by the beach. "
Proper Hotel in Downtown Los Angeles
More recently, Kelly's redesign of Proper Hotel's downtown L.A. location opened to the public. She was inspired by the building's California renaissance revival style and dynamic proportions and underwent a design that included the revival of original features using bespoke tiles, stained glass by Judson Studios, as well as commissioned artwork and ceramic accessories for a Spanish Moroccan atmosphere. Like with her San Francisco and Santa Monica locations, she channeled her artistic perspective through the lens of the city's distinct history to create a noteworthy design destination in the heart of Los Angeles. She is currently designing a Proper Hotel in Austin that will put a Texas-infused spin on her distinctive design work.
---
The remarkable breadth and quality of hotel design by these Studio Designer users have made its mark on the hospitality industry and signals an exciting new age of hotel design. With designers working successfully in both the residential and hospitality spaces, design standards in these two mutually beneficial areas will continue to raise the stakes. Studio Designer would love to hear about our users' hotel design work or hospitality projects so we urge you to send us your story by emailing contact@studiodesigner.com and we would be happy to feature your work in a future blog post.
Interested in learning how you can use Studio designer to grow your hospitality and residential design business? Email info@studiodesigner.com and let's talk!