Interior Design is such an events-driven industry that the abrupt halt of all large gatherings is like cutting off an important source of oxygen. Since COVID-19 has brought the working world to a standstill, the trade has been rocked by a cascade of event cancellations from LCDQ to the Spring High Point Market. But shortly before we were all forced to shelter at home, design professionals were able to get a large gathering in right before the wire at the Design Influencers Conference in San Francisco.
Little did we know that this would be the last such design event for some time.
Christian Daw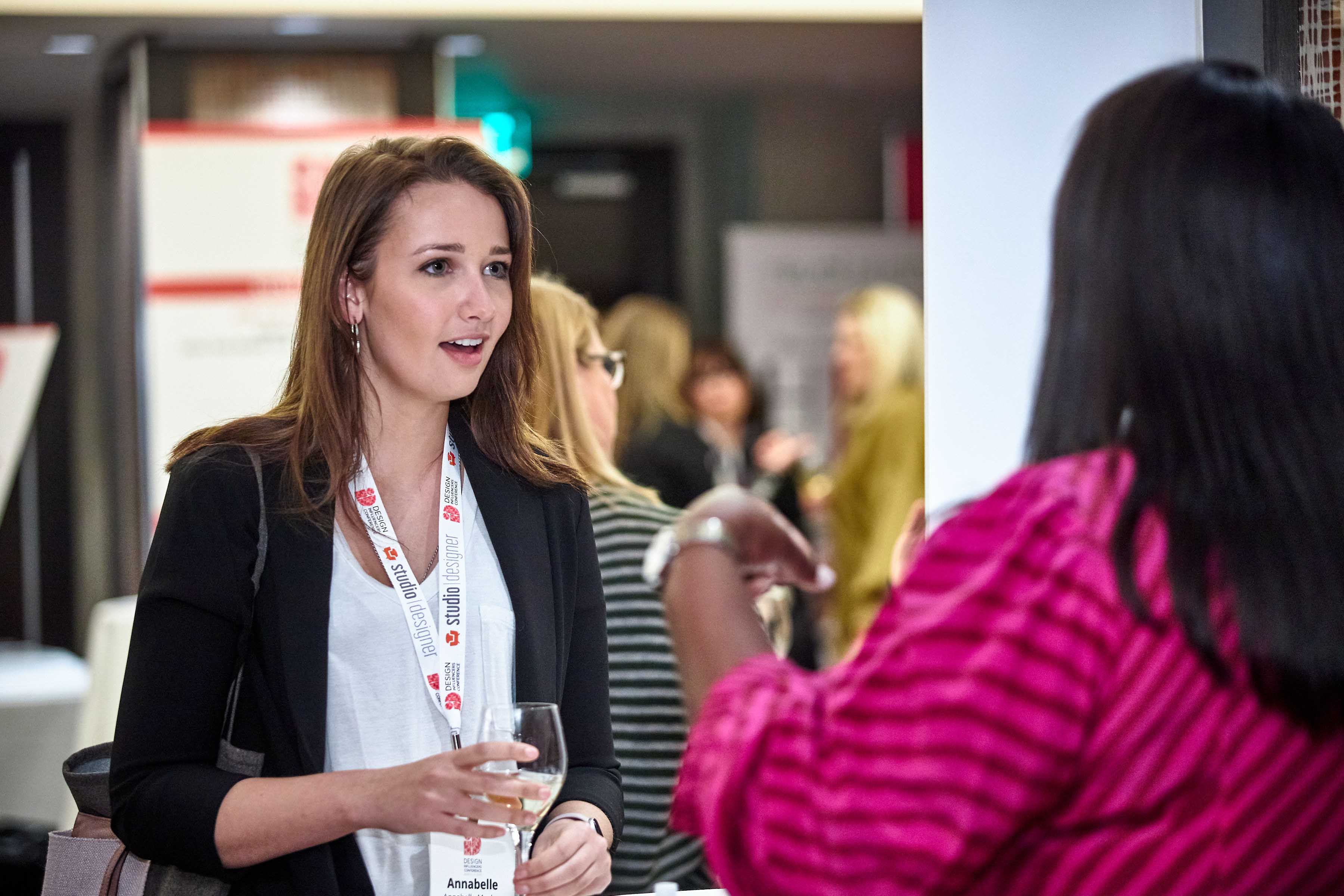 The Design Influencers Conference provides a unique opportunity for designers—who generally operate in their local regional bubbles—to learn directly from the leading creative, marketing, and design talents from all over the country. For designers who want to take their business to the next level, it is essential to keep apace with latest trends and technologies as well as the ever-shifting standards and algorithms of social media.
Day 1 of the conference started with glasses of prosecco provided by event founder and emcee Adam Japko and ended with a cheerful Welcome Reception in the Expo Hall where attendees enjoyed cocktails, branded ice cubes by Monogram in Old Fashioned cocktails, along with a selfie machine provided by Cosmo Living. The buzz about the virus from China was the prevailing topic of conversation but the idea of social distancing was an alien phrase at the time.
The most resonant lessons of day one were understanding the power of influencers and why the design world and social media are a match made in heaven. Jennifer Smiga, founder and creative director of digital marketing agency Ultraviolet defined Instagram influencer tiers and how micro-influencers (at 1k to 50k followers) actually have seven times more engagement with Instagram followers than those with larger numbers of followers, like macro (500k to 1m) or mega influencers (over 1m).
Caitlin Flemming
Caitlin Flemming of the Sacramento Street blog shared that authenticity is key to influencer success and revealed the inspiring story of how she wrote her Travel Home: Design with a Global Spirit with her mother Julie Goebel; later signing copies of the book. Kyla Herbes from the House of Hipsters blog provided revelatory tips for designers on using Pinterest to boost their business and influence like pinning daily, posting new content, optimizing boards for SEO, and using video to increase engagement. The day ended on a high note with an exuberant and spirited presentation by the talented and funny Alexa Hampton—who has taken her late father's firm Mark Hampton to new heights of success—and she truly defied her self-described "Park Avenue Princess" pedigree with warm humor and self-awareness.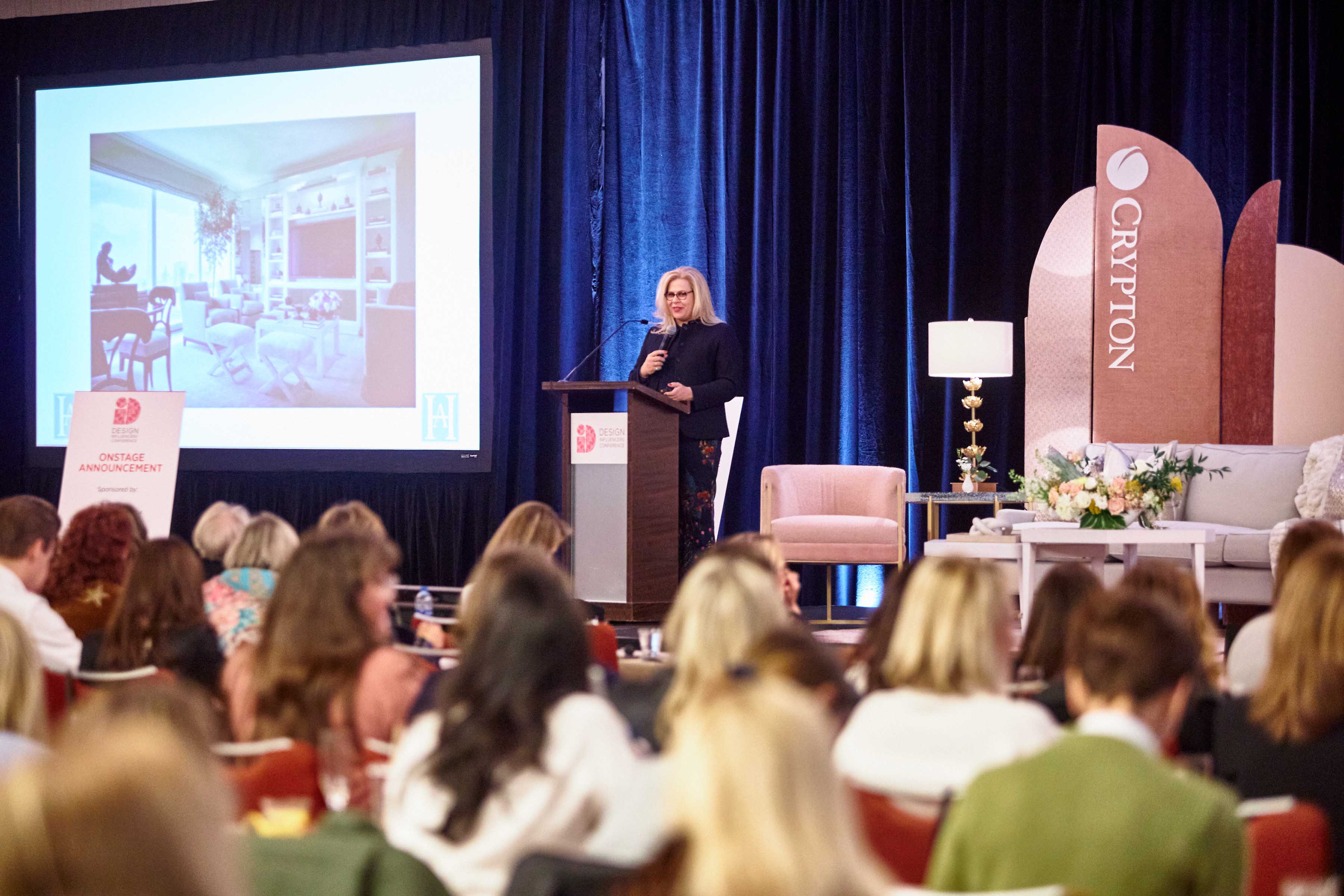 Alexa Hampton
Day 2 featured interior design superstar Nate Berkus. who warmly shared his design passions and references from French 1940s décor to menswear design to handmade crafts from his favorite country, Mexico. He believes his best work is shaped by his references and encourages creatives to always learn, explore, and innovate. Handsome, bright-eyed, and seemingly ageless, Nate detailed his unusual journey from "television decorator" to respected interior designer.
Nate Berkus
The most event-packed day of the conference offered the best stories, causes, and great nuggets of advice. Kim Salmela—who has a successful home goods collection with Norwalk furniture—revealed her amazing and enviable early career experience as creative director for Prince, designing stages and events for the late music legend. Kelly Finley of Joy Street Design considers service to her community an important part of her company's mission so she funds her Joy Street Initiative with 10% or more of her firm's profits. Kelly and her team donate full design services to various nonprofit shelters throughout Oakland.
Norwalk Furniture President Caroline Hipple and Kim Salmela
Sandra Funk of House of Funk shared advice on nurturing client relationships and why the ideal clients are "kind whales"—nice people with deep pockets. Studio Designer users Young Huh plus Tami Ramsay and Krista Nye Nicholas of CLOTH & KIND told stories of why show house design is a career-changing opportunity but show houses are also expensive, time consuming projects that must be managed prudently. Designer Christian Daw defined followers as the main currency on Instagram and stated that you should always keep the right ratio and keep your follower count higher than your following count.
Zoë Gowen of Atlanta Homes & Llifestyles; Tami Ramsay and Krista Nye Nicholas of CLOTH & KIND; Young Huh
Closing out day two was international celebrity Miranda Kerr who—on top of being a supermodel and CEO of Kora Organics Beauty—is now a designer for Universal Furniture with her "Love. Joy. Bliss." Collection. Her venture into furniture design came from her deep love for the comforts of home and she proudly shared that her family was her inspiration, as her father and grandfather were builders.
Event Co-emcee Stacey Kunstel and Miranda Kerr
By the last day of the conference, it was clear that interior design marketing has taken a big shift away from the overly produced and slick production of commercial marketing to the authentic, unpolished, and relatable moments shared on social media. Kyla Herbes even shared her latest obsession with the youth-driven video platform TikTok and turned her selfie camera to the audience—putting us all in her video.
Kyla Herbes
Event co-emcees Adam and Stacy Kunstel educated all attendees about the current state of luxury design marketing and how much the old guard of shelter magazines—like AD and Elle Décor—is vulnerable to the upstarts in digital media. The final keynote closing out the conference featured Mae Karwowski, Founder and CEO of Obviously, the leading influencer marketing agency for Fortune 500 companies. She shared that her clients stay ahead of influencer marketing trends in order to set themselves apart from competition and also emphasized the need for authenticity.
Mae Karwowski
For event-loving design professionals, 2020 seemed to start off so promising with the Las Vegas Market in January, and then this energetic gathering of influencers in March. With all events canceled for the foreseeable future, we must forego the tangible joys of examining new product lines and connecting with fellow design talents in person. Events will always be an essential component of the trade but we must stick to virtual events until it is safe for the world to open up again.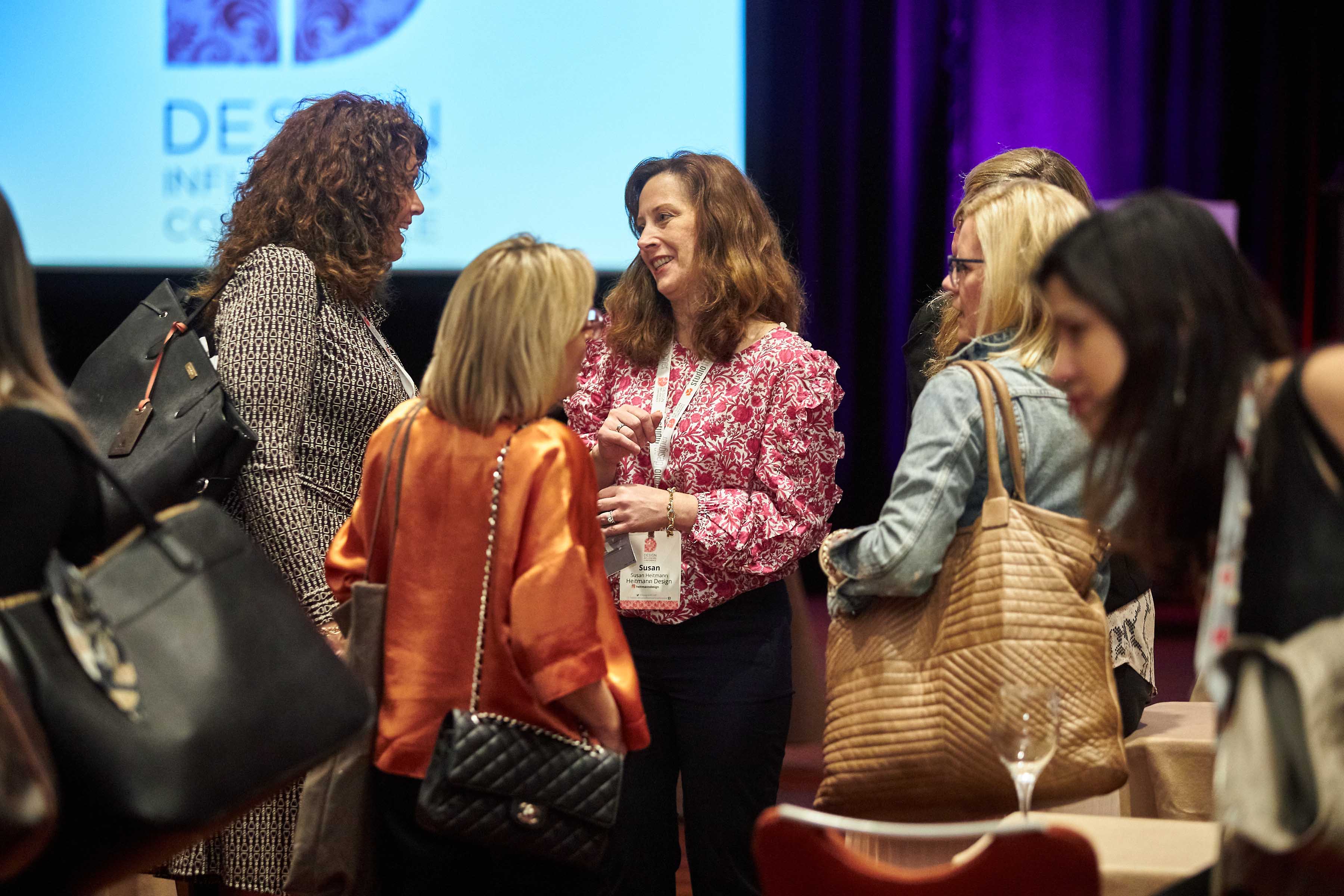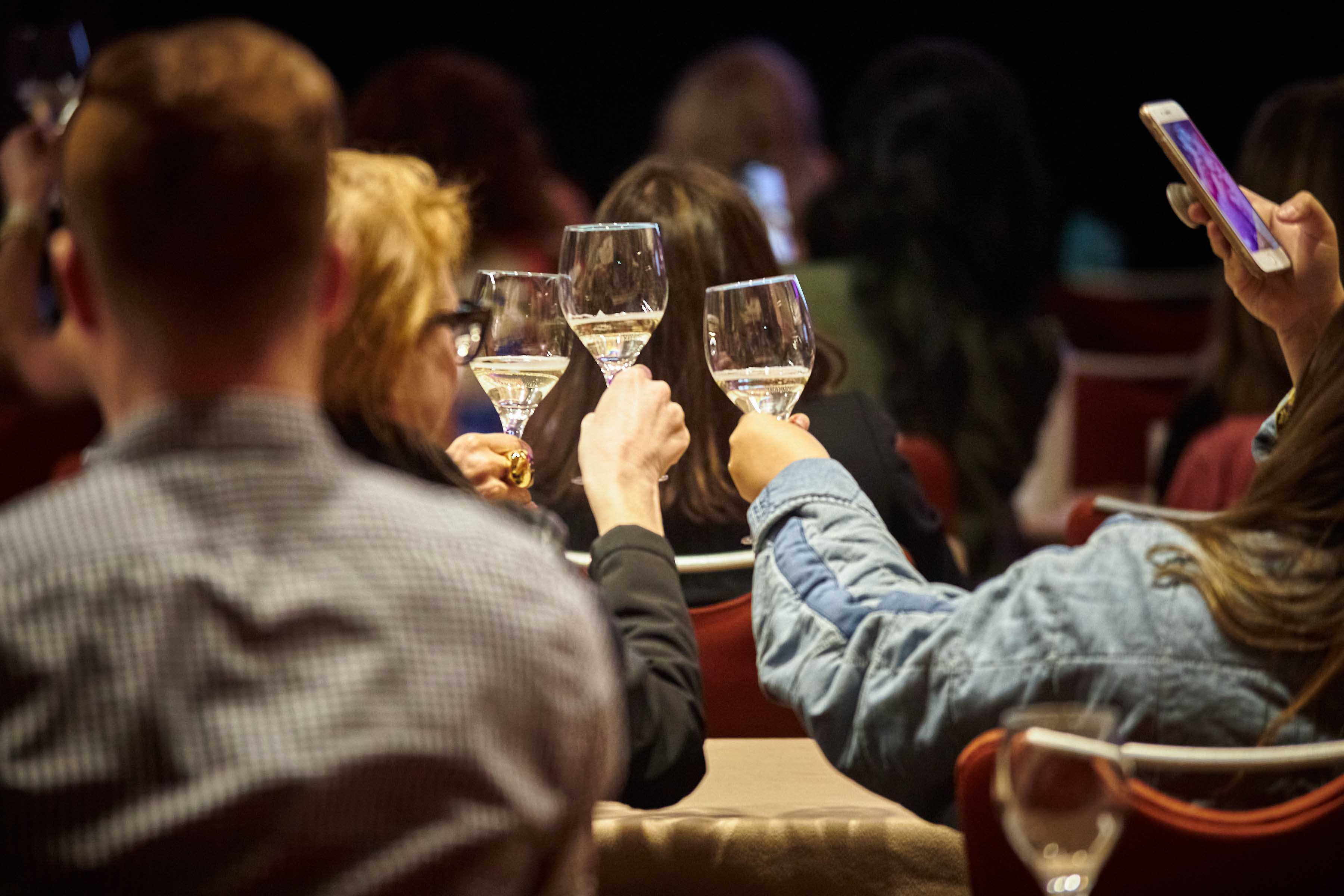 All photography by Chris Bolor | Featured Photo in Header is Nate Berkus in conversation with Caitlin Flemming
Studio Designer Is Here For You
In the meantime, Studio Designer is supporting our great user community with a number of exclusive member benefits. We are holding a webinar series Connecting with our Community, where our CEO Keith Granet interviews design industry leaders⏤like Gale Singer from Circa Lighting and Philip Bershad from Phillip Jeffries⏤who reveal their plans and offer advice on managing the radically altered business landscape. Users can register for these webinars from their dashboards. Plus, we just ran A WORK FROM HOME CONTEST to draw on the creativity of our designers to win a free year of Studio Designer.* Winners will be announced soon.
Being cloud-based, Studio Designer subscription allows you to run the accounting and project management of your design business in a cloud-based, integrated platform that can be accessed conveniently. Email info@studiodesigner.com or visit this page to find out how Studio Designer can help you run your design business remotely.